Grid connected feed in tariff based solar roof top system requires the engineering expertise to make the system more efficient even at small rating. The main core strength of this system is the two way metering at 415V level. Our structure team makes the solar panel roof as a complement of the premises by their core structural engineering.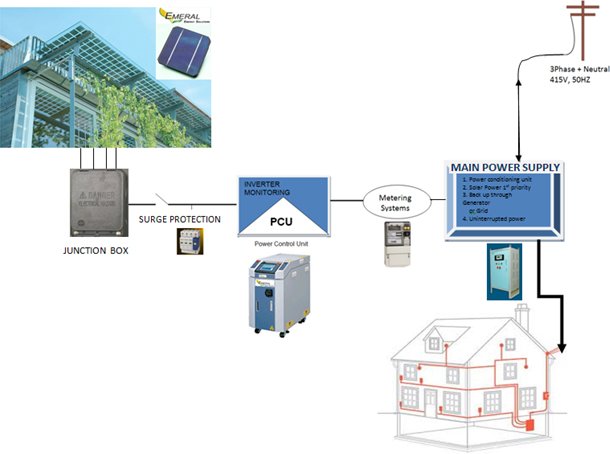 Emeral Net metering system serve as an important incentive for consumer investment in rooftop grid connected solar system. Net metering enables customers to use their own generation to offset their consumption over a billing period by allowing their electric meters to turn backwards when they generate electricity in excess of the their demand. This offset means that customers receive retail prices for the excess electricity they generate. Emeral net metering increases the value of the electricity produced by solar rooftop system and allows customers to "bank" their energy and use it a different time than it is produced giving customers more flexibility and allowing them to maximize the value of their production.
Emeral team is very much sound in the engineering design and construction. Their own manufacturing of solar panel gives them a confidence to give a power commitment for the complete solution.
Emeral is one of the pioneer company in Gujarat for the solar rooftop power plant. We are having a successful track record of being a channel partner of MNRE (Indian Ministry of New and renewable Energy) from more than 7 years. Being a strong technology company, we have been awarded from the multiple organization for the best solution in the field of renewable power. Emeral is adding their feather with the registration in GEDA(State government nodal Agency) with a successful installation of more than 1 MW of residential sites. We are giving a best subsidy benefits from the state and central government. Emeral has also tie up with the international organization who supports residential projects for the financial aids.
We are unbeatable combination of the best technical products with the highest financial Aids on the :-  
Rooftop solar plant with heighted innovative structure

Utilization of the roof and reduction of the heat directly falling on the roof.

Fully automatic solar plant

Emeral Auto Model is having a man less operation and maintenance with fully automatic cleaning system.

Transparent solar panels

Innovative roof is been developed to have a full light without heat to reduce the electricity consumption and power generation. This will also reduce the cost of roof.

Solar windows

This is the revolution for the flats and multistory buildings. Use of solar energy should not face any problem is our Goal.

Solar Air condition

Air Condition is the biggest power consumer device, which will be converted in the solar Air Condition to reduce the power consumption and gradually, this cooling will be almost free for the user. We are on the future track of self sustain power generation mode.
SOLAR INDUSTRIAL GENERATOR
Emeral is one of the best experienced solar power plant provider companies. Emeral innovative technology and solutions of industrial power have made a wide customer base in the field of solar power system. Our core expertise is designing the solar power solution as per the industry needs and make the system applicable for the local Government incentives. Emeral solar system power output tolerance is always near zero, which is always reliable for a long term system stability. This expertise gives us a confidence to commit our customer for zero revenue loss.
Emeral generator is Crystalline and Thinfilm based solar generator. Unlike the industry's most commonly used, diesel generators, Solar Generator is simpler, nearly maintenance free and operates at higher efficiency over a wider range of power output.
With no brushes, there are none to replace. There's also no need for coupling or a slip clutch between the gearbox and generator since the unit's short-circuit current is zero.
Emeral Solar Generator is the tailor maid solution as per the industry needs. If there is no power at all than solar generator will work only on solar and if some power is available or Diesel set is already install than Emeral generator will be designed in such a way that cost will be minimize and use of diesel will be also minimize. Here there are three possible combination of solar generator.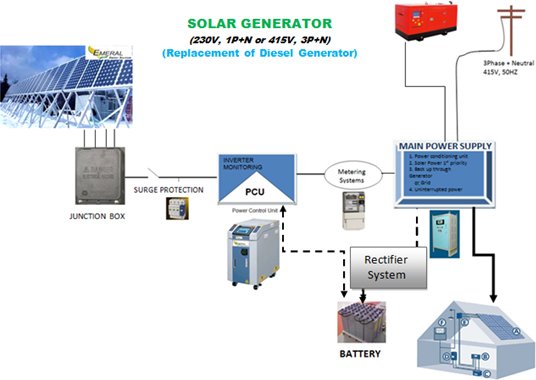 Solar solution will be earning instrument than the expense in the long term. With all the environmental benefit, there are lots of government benefits available to encourage this solution. To have more clear picture we have put a small analysis report here for the cost recovery.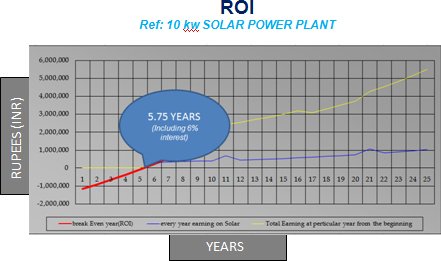 Diesel Consumption everyday
Rise in diesel Price
Diesel Generator Cost
Solar power plant cost
Interest rate on the investment
Depreciation of the plant
Replacement of Diesel Generator at 7 years
Life of the system for 25 years
Investment recovery in apprx. 5-8 years
System life is 25 to 30 years
Zero Maintenance
Earning instrument against Expense
No Diesel Consumption
No Dependency on Diesel Price Hike
No Noise
Income tax depreciation benefit